There are no more items in your cart
Shipping

Free

Total

€0.00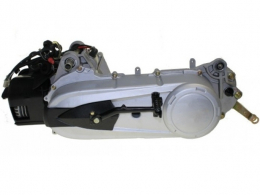 Engine scooter KEEWAY, GENERIC, KYMCO, ICC, HYOSUNG, Chinese GY6 50cc 2 stroke: ARAGON, GTR, CORN POP, FLASH, HURRICANE ...
Here you will find something fitting your motor scooter KEEWAY, GENERIC, KYMCO, ICC, HYOSUNG ... a special category for scooters equipped with a Chinese 2T engine. Whether you need a silencer, a kit, an inverter, a carburetor, valves or other room, you will certainly find it here, what improve your performance, top speed, acceleration, torque or just to fix a Cheap! Chinese 2T scooter engines include the following models: - BSV DIO GP - BSV DIO SP - BSV DIO SR - BSV DIO ZX before 1993 - HONDA DIO G - HONDA DIO SP - HONDA DIO SR - HONDA SHADOW - HONDA DIO ZX before 1993 - HSC SC 01 L - HSC SC 01 - KYMCO CX - KYMCO DJ X - KYMCO DJ Y - - KYMCO AGILITY R16 euro 2 (KF10B) - KYMCO DINK - KYMCO PEOPLE - KYMCO TOP BOY - COBRA - CPI Aragon - ICC Hussar - Oliver CPI - CPI Popcorn - EXPLORER Cracker - GARELLI Tiesse - Hüpper Montecarlo - KEEWAY F-act - Matrix KEEWAY - KEEWAY Goccia - KEEWAY Hurricane - Pixel KEEWAY - KEEWAY RY8 - SYM DD - Chinese scooter GY6 50cc 2T 1PE40QMB - HYOSUNG RALLY PRIMA ... and many other models.
Sorry for the inconvenience.
Search again what you are looking for