There are no more items in your cart
Shipping

Free

Total

€0.00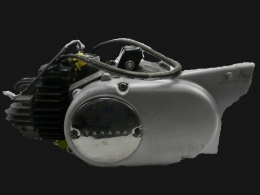 YAMAHA 50cc CHAPPY ...
Here you will find all the parts still on the market for your old bikes YAMAHA CHAPPY ... like the 65cc kits, intake pipes, carburetor kits, ... Engine 50cc! Marketed in the year 1973 to 1996 in various versions. There were models with or without pedals, with automatic transmission (2 speeds with or without preselection lever), semiautomatic (3 speeds) or manual (4-speed) ... The LB50 classification encompasses the full range Yamaha Chappy in 49.9 cc. Namely: -13F: The standard model. All automatic, speed selector. Marketed since 1982 for rare pedal models and 1983 models without pedals. Max speed: 45km / h. -1F1: The model said speed selector. The speed selection is made by hand using a joystick DNL. She can choose to pass between the short rate (mountain) and the long speed (city). Marketed from 1975. Equipped with original, according to the laws of the time, using pedals foot rest. Max speed: 50km / h. -550: The first model imported into France. Marketed since 1974. It has all the characteristics of 1F1 model, except that the car seat is, thus implying smaller gas and oil tanks, and no oil dipstick. -551: Equivalent to 550, but helpless pedals. Is never released in France, it is found in 2 forms: a single seat from 1975 to 1977, dual seat 1977 -543: Last Chappy: it incorporates the features of the 551 (short saddle, small reservoirs code headlamps, etc.) but is equipped with a motor 4 to manual clutch transmission. Never officially imported into France, the model was designed for the Swiss market. Max speed: 65km / h -439: This is the name of the Japanese Chappy! So we find the various forms: 2-speed automatic, semi-automatic transmissions 3 or 4-speed manual ...
Sorry for the inconvenience.
Search again what you are looking for