Italian brand specialized in engine parts of motorcycles, scooter ... PINASCO is still little known to the general public outside Italy.

Website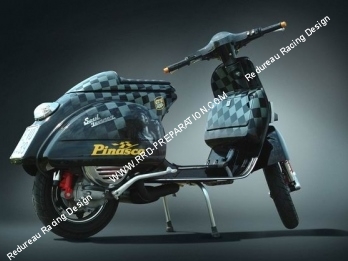 A little history...

Founded in 1969, its first advertising a tuning kit for scooters on the magazine "Motociclismo" dual carburettor for Vespa GT created by Andrea Pinasco. In 1973, for first time in Milan Pinasco Cicle and motorcicle Expo to present its latest products. A tuning kit for Vespa 50 with 47mm bore. It was in 1980 that the Pinasco brand reached its record production with no less than 60,000 motor kit in a year. In 1981 starts cooperations with manufacturers of Italian and foreign vehicles to improve performance and reduce emissions from their engines.

1984: Vespazzurra a scooter built on the basis of a Vespa 200 listening and assisted by Andrea Pinasco in cooperation with a team of 10 engineers won the Spanish Championship. Start of operations of the company Pinasco in electronics (1992). 1999 Pinasco is incorporated into the Bettella group in the year of its 30th anniversary. Today PINASCO is a reference in the agreement and electronic scooters with very good products built with its 40 years of experience.