MHR MALOSSI HYPER RACING mean, it's a brand of Italian MALOSSI represents the elite of the range! The MHR products are the most advanced, the best but obviously more expensive. The range is wide enough especially for the scooter, there are ultra durable and well-balanced crankshaft, top 50 and 70 engines 80cc or even high quality worked to specific cooling, with treatments on top. Large inverters beaches, ultra performance exhausts with silencers that are almost art work (cast end caps, machined tube mass ....). By choosing MHR ... It is sure to get the desired performance and quality.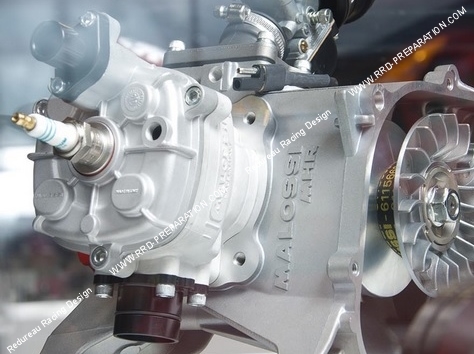 MALOSSI society today:

Malossi spa leadership in the production of special racing parts for scooters and motorcycles has its bases on different reasons: the experience that comes from 70 years of uninterrupted activity, the great passion for motorcycles that brings three generation of this family and finally one absolute imperative: quality and technology before everything!

The motto of this company is summed up in few words: always better!

The Malossi strong point is to be able to hold without calling out a complete production cycle, from research and project to the construction of molds and work with robots to arrive for testing in test facilities, test benches and chemical laboratories and metrology.  

Website