2 products
view products
Great Italian manufacturer's famous engine mécaboite Minarelli AM6, but also known in the world of karting, scooter ...
MOTORI MINARELLI is a famous Italian manufacturer known to all for decades thanks to its engine mécaboite MINARELLI AM6 equipping lots of gear on the market such as MBK brands, BETA, PEUGEOT, Sherco, RIEJU, HM, FANTIC, YAMAHA , MALAGUTI and many other brands. That's not all, the manufacturer also developed for karting engines and also in the middle of scooters.




A little history about the manufacturer ... (source info site Minarelli)

The origin of Motori Minarelli dates back to 1951, when Vittorio Minarelli and Franco Morini founded a company named Fabbrica Bolognese Motori (FBM) .The Company first products were complete motorcycles, among which were the original "The Gabbiano "(125cc) with a horizontal single-cylinder 2-stroke and 200cc 4 stroke Vampir, with 4 speeds and reliable to 110 km / h. In 1954 the company began to produce engines 48 cc moped motorcycle.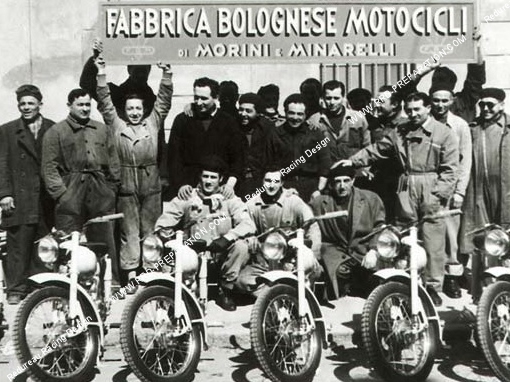 In 1956 FBM Gave up STI motorcycle production and focused full time on the production of moped engines and motorcycles 2 times. The two partners split in the same year and Vittorio Minarelli founded FB Minarelli in an area of 2000 sqm, where, with twenty specialized mechanic, the daily output is up to 70 engines. Engine production is exported Bologna in Italy, Europe and Latin America.

The company has continued to evolve in 1967 and changed its name to Motori Minarelli IST and opened a new plant in Lippo di Calderara di Reno. In the 70s, the production of fast growing enterprise reaches 250 000 engines per year. It was also in the 70s that machine at Motori Minarelli began to gain a long series of titles in motorcycle racing, awards four titles and two manufacturer titles driver championship 125cc world. Champion titles that remains unbeaten today.




1990 is another historic date for manufacturer Motori Minarelli, marking the start of production of scooter engines in collaboration with the Japanese Yamaha Group in addition to updating the scooter 50cc and 125cc. Success is soon feel Motori Minarelli and production levels pass record levels compared to the 70.

Years later and still after many developments, Motori Minarelli Yamaha joins the group in 2002, and together they developed the engine for global production accrue.Tout like all Italian and European in general manufacturing factories Motori Minarelli has faced a complex global economic situation and led to the need to question themselves, trying to understand what a good strategy for the future.

Website

Address: Motori Minarelli SpA Via S. Vitalino, 19 - loc. Lippo
40012 CALDERARA DI RENO (BO) - ITALY

Member of Yamaha Motor Group