LOCTITE is a trademark of the Henkel group. This is a great range of products for sealing, bonding mechanical parts in the industry, vehicles and other crafts. They make for example the leg joined, the tabs of material additions, adhesives for screws, bearings ...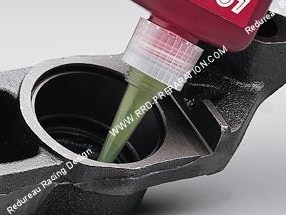 Henkel Corporate Website
About Henkel (source info band's website)

Henkel operates worldwide with leading brands and technologies in three areas: Laundry & Home Care, Cosmetics and Adhesive Technologies.
Founded in 1876, Henkel is a leader in the international markets of the consumer and the industry, with famous brands such as The Cat, Schwarzkopf and Loctite.
Employing approximately 48,000 people worldwide, Henkel realizes a turnover of 15.092 billion euros in 2010. Based in Düsseldorf, Henkel is established in France since 1967.

Henkel in France, an integrated enterprise in French economic landscape in 2007 which celebrated its 40th anniversary. In 1950, Henkel expanded into France, before opening the subsidiary Henkel France in 1967. The company then experienced remarkable growth: since 1970, Henkel France has increased its turnover by 40. A strong position achieved by to mainstream successful launches - Schwarzkopf, Cat Sensitive NiClouNiVis, Stop humidity - and value-added acquisitions such as those of Indola Schwarzkopf Professional.

Above all, Henkel France has managed to coexist strong local brands - Mir, Mont Saint Michel, Rubson, Diadermine - with recognized international brands - Fa, Loctite.
Henkel operates in three areas of competence: Home Maintenance, Cosmetics and Adhesive Technologies.